This tiny kingdom of Bhutan, nestling in the Himalayas, has undoubtedly earned its title as Shangri-La – an idyllic world we all long for. Surely a country such as this, which has chosen to live in isolation for years, must have benefited greatly from protecting its environment and its cultural roots.
Can you imagine the kind of culinary adventures one would have discovering this beautiful country, 70% of which is still covered in forests, and farming is a major occupation? The first thing any foodie wants to know is what kind of food the Bhutanese people eat. There are all kinds of misconceptions floating around…. It is Tibetan…Nepalese…Chinese – and for some strange reason, even Naga!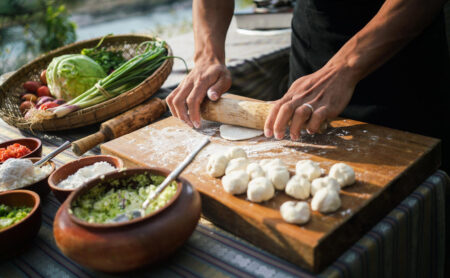 The fact is that because Bhutan was so cut off from the outside world, it has pretty much preserved the uniqueness of its culinary culture. So yes, there are discoveries to be made, and the food adventure buff is just going to love it. That said, you will also find there are some familiar dishes (such as momos and dal-bhat) available in the eateries and restaurants in town!
The Bhutanese love to eat. The food is packed with flavor and adventure. And there are two things that drive their passion – chilies and cheese. You will discover how their addiction has found an endless way of crafting dishes to ensure these two ingredients are allowed a free hand!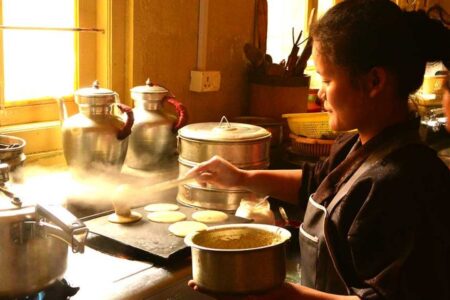 Wandering around town you will find chilies spilling out of baskets in the bazaars, drying in courtyards, rooftops…even the sidewalks. The chili of choice is a fat variety known as capsicum annuum. Did you know they even use white chilies in one of their dishes?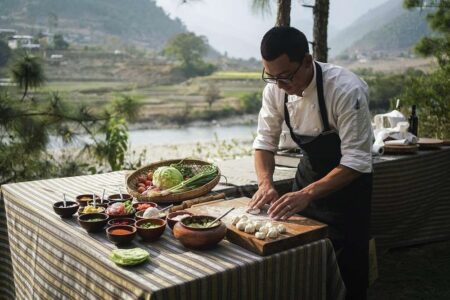 You cannot go to Bhutan and not sample 'Ema Datshi', the national dish. Delicious but fiery hot, this is the most favored dish of the Bhutanese. This spicy stew favors green chili peppers, onions, tomatoes, and lots of cheese made from cow's milk; it is eaten with red rice. The locals love it really spicy, but restaurants catering to foreigners tend to tone it down to suit their palates.
Another interesting take on a stew is Shakam Shukam Datshi, which is again about cheese and chilies…but this time dried white chilies in which chunks of dried beef are cooked. The white chilies give a sour bite to the dish!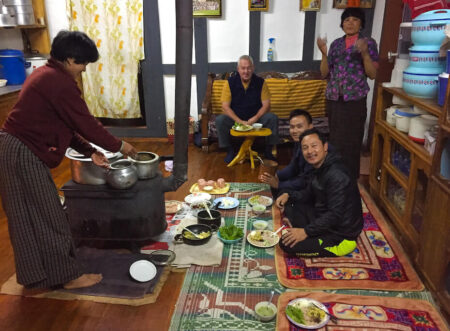 Jasha Maroo/ Maru, a spicy chicken, is a broth-like dish powered by chilies, onion, tomato, garlic, coriander leaves, and ginger; it is accompanied by red rice.
If you love tea, try the local version, ngad-ja, which is a sweetish milky tea, normally accompanied with a snack or two.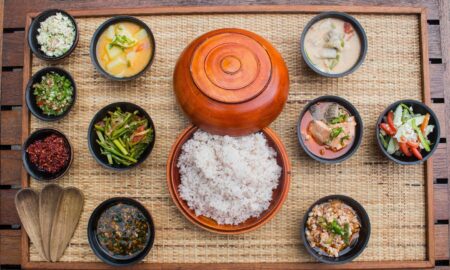 It is clearly evident that to discover and enjoy the true essence of Bhutan's culinary pursuits, one should attempt to eat at restaurants and eateries that cater to local tastes. What is even better is to sample some of these dishes at a local home, where you might even get an opportunity to cook them with the guidance of a family member.