The topical expanses of Sri Lanka are the perfect place to escape the cares of the world with your family in these fraught times. A cavalcade of historic sites, bustling markets, adventure activities, and cultural delights on offer allows for family members of varying ages to pursue their interests in the most charming environs.
Surf like a Pro
In Galle, you will find the perfect place to learn how to surf; even the older folks, who don't know head or tail of what about it, can learn this exciting sport in the safety of a secluded spot in the beautiful Weligama Bay, known for the friendliest waves in the world. The daring and more experienced ones can venture out to the more industrious waves around the area.
Colombo at Night by Bike
The more adventurous in the family will just love this amazing jaunt of discovery of an illuminated Colombo by bicycle and under the dark, velvety star-filled night sky. The dedicated bike routes, which help you avoid traffic, make this even more fun. Your night ride takes you from Independence Square to the highpoints of Arcade, Pettah, and Slave Island. Wonderful!
Bonding with Elephants
The entire family should definitely visit the Elephant Foundation at Kegalle, 36 km from Kandy. This establishment has for years been doing very important work in the rescue and care of captive Asian elephants in Sri Lanka. You will all simply love the time you spend in the company of these gentle giants who live here amid a 15-acre coconut plantation. You can even offer to help feed the elephants under supervision. This is sure to be one of the best memories for the whole family to take back from Sri Lanka.
Colombo Eat Beat
A family holiday with some exciting foodie adventures makes for a great bonding time for everyone. In the eat streets of Colombo, you are sure to find plenty of foodie moments to share, compare and indulge one's taste buds. Hop onto the local tuk-tuks and arrive at the popular dinner time hubs, where vendors and patrons start the night dance of food frenzy. From shots of local arrack to authentic Sri Lankan fiery curries, there's plenty here to explore – and savour.
Vintage Car Explorations
Again this can be a thoroughly fun experience. Even the younger lot in the family, who have a feel for the vintage, will love this opportunity to explore the history and maritime past of Galle, with what will be surely exciting inputs from the older menfolk in the family. Vintage motorcars have this wonderful aura about them, and exploring historic places gives that edge, which will make this trip quite unique. Also, it's the perfect time for everyone to bond over the past – in the present.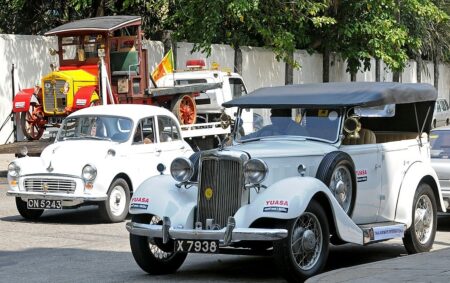 From golf to tea plantation visits – from heritage temple sites to walks and treks in biodiverse rainforests – you know Sri Lanka has to be on your family holiday list again – simply because there's all this and more to explore…
Experience our collection of Family Experiences in Sri Lanka