An Indian water harvesting tradition from deep antiquity, step wells are imbued with sacred significance and architectural delights. A critical resource of water, which is collected during the rains for the dry months, step wells also serve as an important leisure time community hub and sacred space for the locals. Richly symbolic, step wells were largely commissioned by women, because of the life-giving connotations. The ornamental delights of this water architecture make step wells, alternately known as baori, bawdi, vav, kund, vapi, sagar, a huge draw for visitors. Some of the most exquisite examples of step wells are to be found in Rajasthan, Gujarat, Delhi, and Karnataka.
Gujarat
Rani Ki Vav-Patan
Located in Patan, near Ahmedabad, Rani Ki Vav was commissioned by Rani Udayamati in memory of her husband Raja Bhimdev I. The back story of it being so well preserved is that it was protected by a thick layer of silt during a natural disaster in the 13th century before it was rescued in the 1940s. The baoli reflects the Maru-Gurjara style of architecture. Its high points are its massive 7-tier structure and the stunning artistry of the intricate and exquisite carvings of Vishnu and other deities that illustrate the entire stone façade.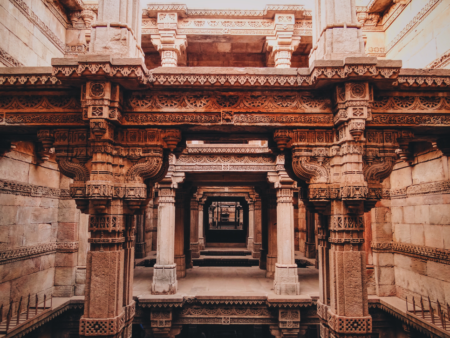 Adalaj Vav-Gandhinagar
Still in an excellent state of preservation after 500 plus years Adalaj Vav, also known as Rudabai Vav, is a splendid exemplar of Indo- Islamic architectural delights. Dating back to 1499, this 5-tiered marvel is remarkable for its ornamental features including filigree work and sculpted stonework. Strangely enough, the vav, rich in Hindu symbolism, was commissioned by Mahmud Begada, a Gujarati Sultan.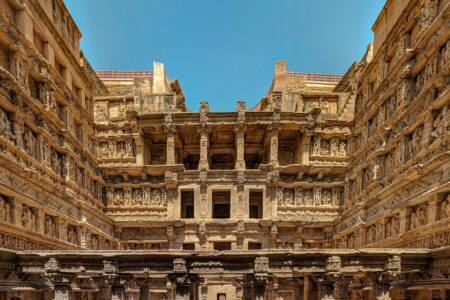 Suraj Kund-Modhera
Located near the exquisite Sun Temple at Modhera, a short drive from Ahmedabad, Suraj Kund features over a hundred miniscule shikharas (spired temples) and shrines on the steps leading down to the pool at the bottom. Its connection to the fabulous Rani-ki-Vav at Patan is that it was commissioned by Raja Bhimdev I. It served as a repository for water storage as well as a setting for religious ceremonies.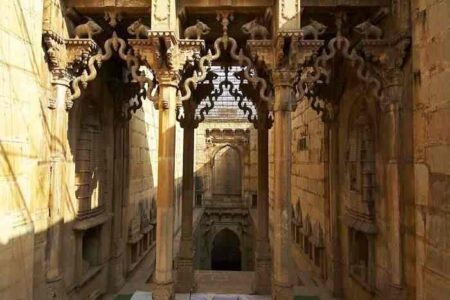 Rajasthan
Chand Baori -Abhaneri
One of India's lesser-known gems, it is considered to be probably the oldest surviving step well in the country. This upside-down pyramid-style baori was built between the 9th and 10th century by Raja Chanda of the Chauhan dynasty. It features 3500 steps cascading 13 stories deep to the massive tank at the bottom. The fourth side has pillared corridors at many levels.  Of interest here is its exquisite diamond-setting geometry of the cascading steps on three sides and the image of Sheshasayee Vishnu reclining on the serpent Ananta. The step well is located opposite the partially ruined Harshat Mata Temple and has been featured in several films including The Dark Knight Rises.
Raniji ki Bavdi – Bundi
Known as the 'City of Stepwells', the medieval sprawl of Bundi is home to the underground cathedral-like Raniji ki Bavdi, dating to 1699 AD. It was commissioned by Rani Nathawatji. It features richly carved pillars archways (torans) and carved reliefs of fighting elephants, miniature shrines in niches. The rani is said to have built 20 other baoris.
Delhi
Agrasen Ki Baoli – New Delhi
According to local legend, it dates to Mahabharata times. Named after Raja Agrasen, it features 108 steps. But, most likely what we see today dates to the 14th century Tuglaq era. It's also a popular film location.
Rajaon ki Baoli – New Delhi
Set amidst the tranquil forested expanses of the Mehrauli Archaeological Park, it was built in the 16th century by Daulat Khan of Delhi's Lodi dynasty.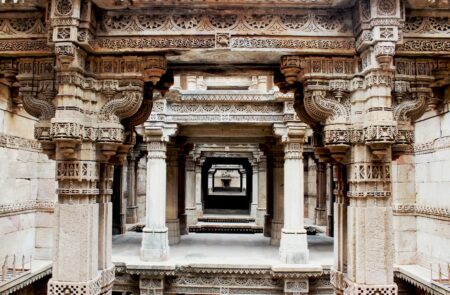 Karnataka
Pushkarnis, Hampi
Hampi is fabled the world over for its fabulous ruins of the highly cultured and very wealthy Vijaynagara kingdom. Among the highpoints here are the scattering of step-well nuanced ceremonial tanks known as pushkarnis. Pushkarini is located near Mahanavami Dibba in the Royal Center. It features the cascading 'stepped' approach to the water in the pool at the bottom. Perfectly geometrical, it has no illustrative features found in other famous step wells.