If you are considering a luxury India trip, you may want to include a stay at a luxury safari lodge. Staying at a safari lodge in India is a great way to relax and to take a break from the intensity of your India trip while watching for animals and birds. The following is a short list of luxury India safari lodges that we recommend.
Samode Safari Lodge is near the entrance to Bandhavgarh National Park.  This park contains the highest density of tigers in India. Safaris are conducted twice a day and are led by the lodge's knowledgeable guides and trackers, making each safari unique and memorable. There are 12 independent villas. The exterior of the villas replicates the local village architecture. There is exquisite art in the rooms and main building. If you want to relax, you can sit on your own private verandah, sit out at the pool or enjoy the lodge's full service spa. There is a gymnasium and outdoor trails. You can visit Madari, the nearby village, between safaris. Dining, both indoors and outdoors and with different venues, is a treat at this lodge. This is a Relais & Chateaux property.
Taj Banjaar Tola Lodge is located on the banks of the Banjaar River next to Kanha National Park.  The camp has two areas each consisting of 9 tented suites. The lodge was built with a minimal ecological footprint and incorporates a natural theme into all aspects of the lodge from the open – air tents, using local textiles and large glass doors, to the bamboo building materials. This resort was selected to take part in "Project Tiger" which is an initiative to save the tiger species. This lodge is recommended if you would like to tune into the natural beauty of the Indian jungle while relaxing in a beautiful tented camp to enjoy Kanha National Park.
Taj Pashan Garh Lodge, located near Panna National Park, sits upon a hill on the Ken River with impressive views of the virtually untouched forest and watering hole. This site includes 12 stone cottagesinspired by the dry stone houses of the Panna region nearby.  The cottages are intimate and private with a contemporary look on the inside. This lodge provides safari tours into the jungles led by trained naturalists. Many guests are privileged to spot the tiger and elusive leopard. In addition to the safari drives, a river cruise on the Ken River to spot several species of birds and the Mugger crocodile is available. Food is delicious and there is a special Kadhai dinner using the lodge's interactive kitchen where the chef introduces the intricacies of Indian spices and gravies while preparing the guest's favorite Indian food. Guests also can relax at the swimming pool. While staying at this lodge, a visit to the famous UNESCO temples in Khajuraho, only 31 kms away, is possible.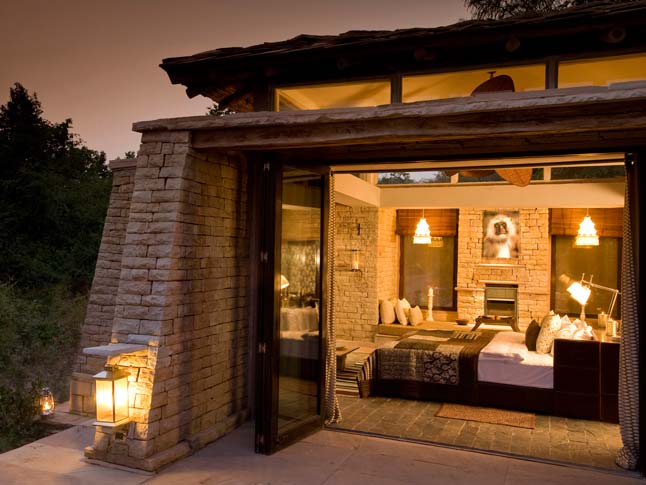 Photo, Credit: Taj Hotels
Taj Mahua Kothi Lodge, the first built of the Taj safari lodges, is a 10 minute drive from the main gate of the beautiful Bandhavgarh National Park. Originally, it was constructed as a tented camp but has been renovated to include twelve luxury cottages called Kutiyas. Each cottage is built in the traditional style of the local area and is adorned with handcrafted local décor. The lodge provides guided safari drives into the park where guests are able to view tigers, sloths, exotic birds and unique vegetation. In addition to the safari drives, the local 2000 year old fort and ancient statue of Lord Vishnu can be visited by jeep.  There are in room messages, a swimming pool, bicycles, a library, delicious food using local ingredients and an interactive kitchen.
Aman- I- Khas, located on the edge of Ranthambore National Park, is a 10 tented wilderness camp located in the edge of Ranthambore National Park. The lodge includes luxurious accommodations with private tents that are fitted with king size beds, canvas walls, private showers and ceiling fans with air conditioning. There is an early morning and late afternoon safari to see the many animals: tiger, leopards, hyenas and more types of animals. Bird life is plentiful with about 350 different species. The guides know the jungle inside and out which gives guests the opportunity to have a very memorable adventure. Camel safaris are available outside the park to visit near by villages. This resort also gives guests the opportunity to visit Ranthambore fort.
Sher Bagh is designed to look like the safari lodges of the 1920's when westerner's interests in the deep jungles and exotic wildlife of India had really started to take center stage. The property has 12 luxurious tents located on the border of Ranthambore National Park. Each lodge is decorated with historical Edwardian style furniture, hand – sewn canvas, antique lanterns and artifacts from the twenties as well. Lunches are western style and dinners Indian cuisine. The lodge embraces the spirit of the original Indian safaris bringing the excitement and wonder of seeing mysterious tigers and other Indian treasures up close for the first time.
Oberoi Vanyavilas is a celebrated resort in Ranthambore National Park. Guests can relax and unwind with the onsite spa and pool or they can ready themselves for a truly unique safari adventure. This resort offers comfortable 4×4 safaris into the tiger reserve to spot leopards, crocodiles, birds and of course the majestic Indian tiger. Guests have the option of a hot air balloon ride to see the expansive 400 square kilometer park and elephant rides as well. This resort is a remarkable blend of the natural side of India as well as an impressive modern stay.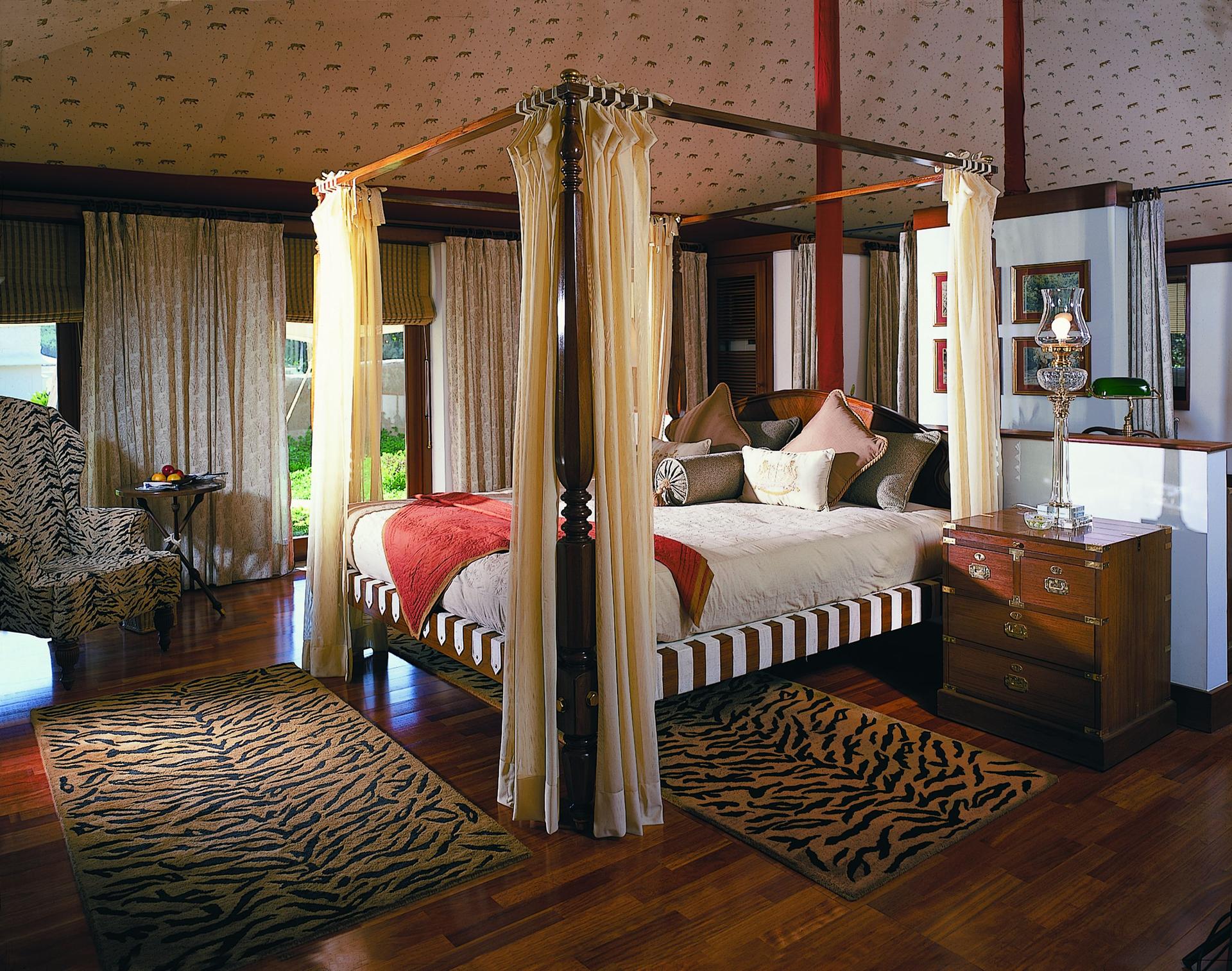 Photos of the Oberoi Vanyavilas, Credit: Oberoi Hotels and Resorts
Jawai Leopard Camp is a captivating safari lodge with 9 luxurious tents. The camp opened in October 12, 2013 and is located equal distance between Udaipur and Jodhpur in Rajasthan. It has very little building development making it a spectacular destination for wildlife sightseeing. The camp offers splendid accommodations including luxury air-conditioned tents, on site spa services, locally organic prepared food and expansive views of the forest. This camp offers twice daily wildlife excursions where guests have the opportunity to see several big cats such as tigers and leopards. Because it has so little human activity, the camp's surroundings become a second home to several migratory birds and other animals making this the perfect place for a wildlife pleasure trip. Excursions can be made to Kumbalgarh fort and the Jain temples of Ranakpur.
Orange County Resort in Kabini is highly recommended for anybody who wants to really get in touch with the natural beauty of South India. This resort provides world-class accommodations while building on the founding philosophical pillars of peace, harmony and tranquility. Orange County Resort sets itself apart from everybody else because of the in depth experience they provide for their guests. They offer three different safari options. They have a traditional guided 4×4 vehicle safari that will traverse the Nagarhole National Park to see Chitals, Sambar and Guar. A second option is a small boat that travels upstream on the Kabini River to see Asian Elephants in their natural peaceful state. Lastly, the resort offers a Corcle ride which is a small boat that is indigenous to India that are used to allow the guests to float up the river banks bringing them closer to the natural state of the land. There are night walks, a group of Kuruba tribal dancers performing their dance at night around a campfire, an Ayurvedic spa and two pools, one for adults only and one for families. This is a great resort for couples and families.
Jamtara Wilderness Camp is located in the village of Jamtara near Pench National Park. It is a fantastic wilderness camp that exudes the outdoor spirit. The camp includes luxury tents featuring wood floors, air conditioning, organic food, bonding campfires and exotic wet bars. This resort offers wildlife excursions into Pench National Park via 4×4 vehicles where guest can see the menagerie of the Indian wilderness. This camp absolutely embraces the outdoor spirit so much that each tent includes a private mosquito netted star bed on their porch allowing the guests to sleep in the great outdoors under the beauty of the starlit sky.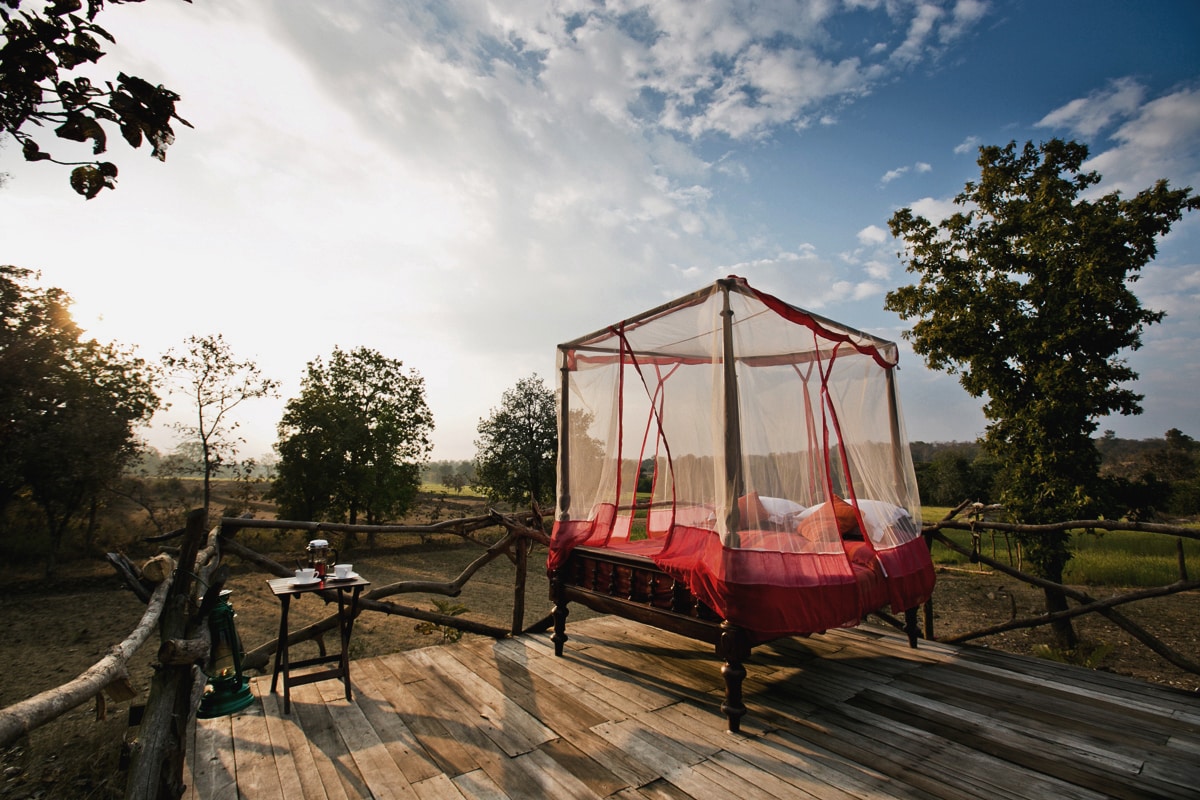 Photo of Jamtara Wilderness Camp, Credit: Jamtara Wilderness Camp
If you are planning an India trip and would like to stay at a safari lodge in India, please call Susan at 877 255 7438 or email susan@34.207.230.29.