On your travels around India, you will discover some of the most illuminating stories of how rural, tribal, and urban women artisans – in fact, women in general, have charted a course in tourism to empower themselves and carved a place for themselves in their families and society by their entrepreneurial spirit.
While shopping for textiles in the bazaars of Ahmedabad in Gujarat, Lucknow in Uttar Pradesh, and Udaipur in Rajasthan, you will discover shops stacked with the end products of the bewildering range of amazing weaving, embroidery, block printing, and dyeing skills of the crafting community.  So, whether it's the chikankari garments of Lucknow or appliqué and patchwork in Ahmedabad, the Self-Employed Women's Association (SEWA) has a big hand in facilitating the economic empowerment of women artisans while conserving these precious traditions. Just like NGO Sadhna's efforts in Rajasthan's Udaipur and Rajasmand districts, SEWA's artisans today are confident women, independent decision-makers, and carving a place for themselves in their families and society.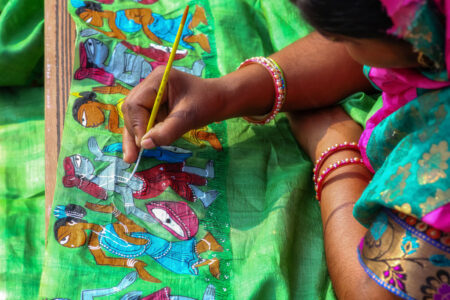 During your explorations of Jaipur city and Agra, you will encounter another facet of women's empowerment. The Pink City Rickshaw Co. is a unique innovative initiative of ACCESS Development Services, a not-for-profit organization, which aims to provide a new aspirational employment opportunity to 200 women from low-income households in Jaipur. The unique and custom-designed, eco-friendly rickshaws are driven by smart, enthusiastic, and well-trained women, who open up an exciting window to travel in Jaipur.  In Agra support is welcome to Sheroes Hangout, a one-of-its-kind cafe run by acid attack survivor women in India. These women have rewritten their narrative and transformed their lives by fighting back for life and survival through heinous chemical burns and are now on a course to define themselves as 'fighters' – Courageous fighters who walk with scars. Empowerment of women as indicated by their story no more remains a widely funded phenomenon but materializes in the form of a readers' cafe, an activism workshop, etc.
Kerala's performing arts landscape is renowned for the fabled dance-drama of Kathakali; it was always a male dominated-affair from the time of its establishment in the 16th century. Even the role of women was done by men. One of the great stories of women empowerment in the performing arts in India is how women have clawed their way onto the stage and have become recipients of the President's Award for their craft for their Kathakali performance. A specialized designed tour for Kathakali provides you with an exclusive interface with award-winning women Kathakali artists.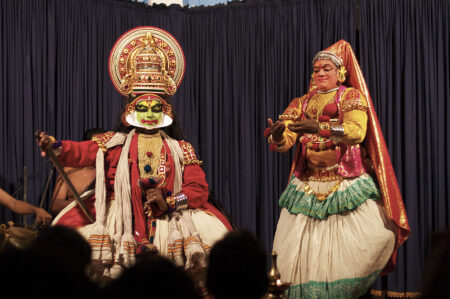 The Preserve Alleppey Project, started in 2000 exclusively by the Lion Ladies Club of Alleppey, is a walking tour aimed at the preservation of Kerala's natural, idyllic backwaters eco-system. On Philipkutty's Farm, established on reclaimed land in the middle of the backwaters in Kerala, you will discover how the woman workforce has been empowered economically on this working farm.